Experience an exhilarating adventure with a zipline ride that guarantees a safe but challenging activity for thrill-seekers. The tour includes four ziplines, 30 to 140 meters long and a hike through the stunning Grafargil river canyon. Enjoy a bird's-eye view of the breathtaking scenery as you whiz down the zipline.
The tour is available daily from Easter to Christmas, and booking is recommended to secure your spot.
Use the promo code VGUIDE to receive a 10% discount when booking online, at www.zipline.is.
Adults: ISK 11.900kr.
Children: ISK 3,500kr. (8 – 12 years old) if accompanied by an adult
DRESS CODE: Dress according to the weather. Rain- and/or windproof are usually good options.
SHOES: Wear good shoes, preferably hiking boots. If the track is wet or slightly frozen, it can become slippery.
HAIR: Long hair should be braided or placed in a low bun. You'll get a helmet.
MEETING POINT: We meet at our base 10-15 minutes before departure.
DURATION: 1.5 – 2 hours.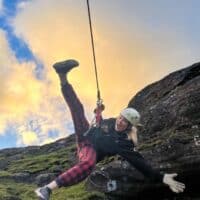 Location on a map
Get directions