The only creamery in Iceland still with its original equipment is at Baugsstaðir farm, 6 kilometers east from Stokkseyri Village on the south coast. It was founded in 1904 by 48 farmers from Stokkseyri and its neighbourhood. The Creamery began operating in 1905 and continued until 1952, longer than any other creamery in Iceland. Over 30 such creameries were in operation in Iceland at one time. Baugsstaðir produced butter, cheese and other cream product's which the farmers brought to the creamery. The main part of the products were sold to England as "Danish butter".
In 1971 a preservation society for the Creamery at Baugsstaðir was founded. The creamery has been open to the public during the summer since 1975.
Open on saturdays and sundays in Juli and August at 13-18.
And by appointment, please call +354 483 1082.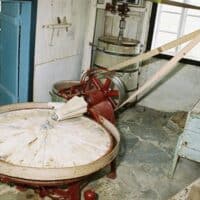 Location on a map
Get directions